A few months ago I shared a story about my rescue donkey, Daisy, and how shortly after arriving, she insisted upon knowing her purpose here on my property.
In that newsletter I asked you for photos and a short sharing about your animal friends and their jobs and / or purpose in your lives together.
Enjoy the sweet and fascinating (and sometimes hilarious) submissions below!!
Big Joe

I am absolutely, 100% certain, that Big Joe came into my life to make me stronger, to show me how to stand up for myself more:  to give me my bark back, in so many words.
I fail a lot at that, but it's always a work in progress.
He's been my rock and has always helped bring lightness to my sometimes dark world.
I feel as if our hearts are one in a way.  
Melissa D.
Peaches and Zazzy

Here are our two girls: Peaches (the muted calico) and Zazzy (aka Queener Queens)
I believe Peaches' job is grounding the family.
In our busy days, any time we walk by Peaches, we all stop for a moment to admire her as we pass. Her deep presence brings us back to our hearts and reminds us of a beautiful sense of calmness.
Zazzy loves to reach out with her paw and connect to us with her energy of pure love. 
Angela W.
Luna

I recently learned through my direct communication with Luna that her job is to support my nephew. (I took Sharon's Basic 1 Course in Animal Communication earlier this year).
Luna has a special way of understanding my nephew, who tends to be on the quieter side. It is beautiful to watch the two of them together in silent connection and communication. They have deeply meaningful exchanges that help him in the way that he needs.
Shivali M.
Catherine's Donkeys

We adopted two BLM rescue Donkeys that we allow to roam freely around our 100 acre farm. It is so fun to watch them and see where they choose to go. At one point we moved our pigs to a separate pen so they could have their babies. The entire two weeks before they delivered, the donkeys stayed at their pens keeping guard!  After the birthing, they stayed for another two weeks as well!
They are still protecting our livestock and living a fine life in the Smoky Mountains!
Catherine T.
(The following 3 submissions were written from the animals' perspectives. Laura Ann J., their person, is one of my students.)
Poppy
My name is Poppy and I have a purpose.
We had a hard start together Laurie and I.
I am a rescue.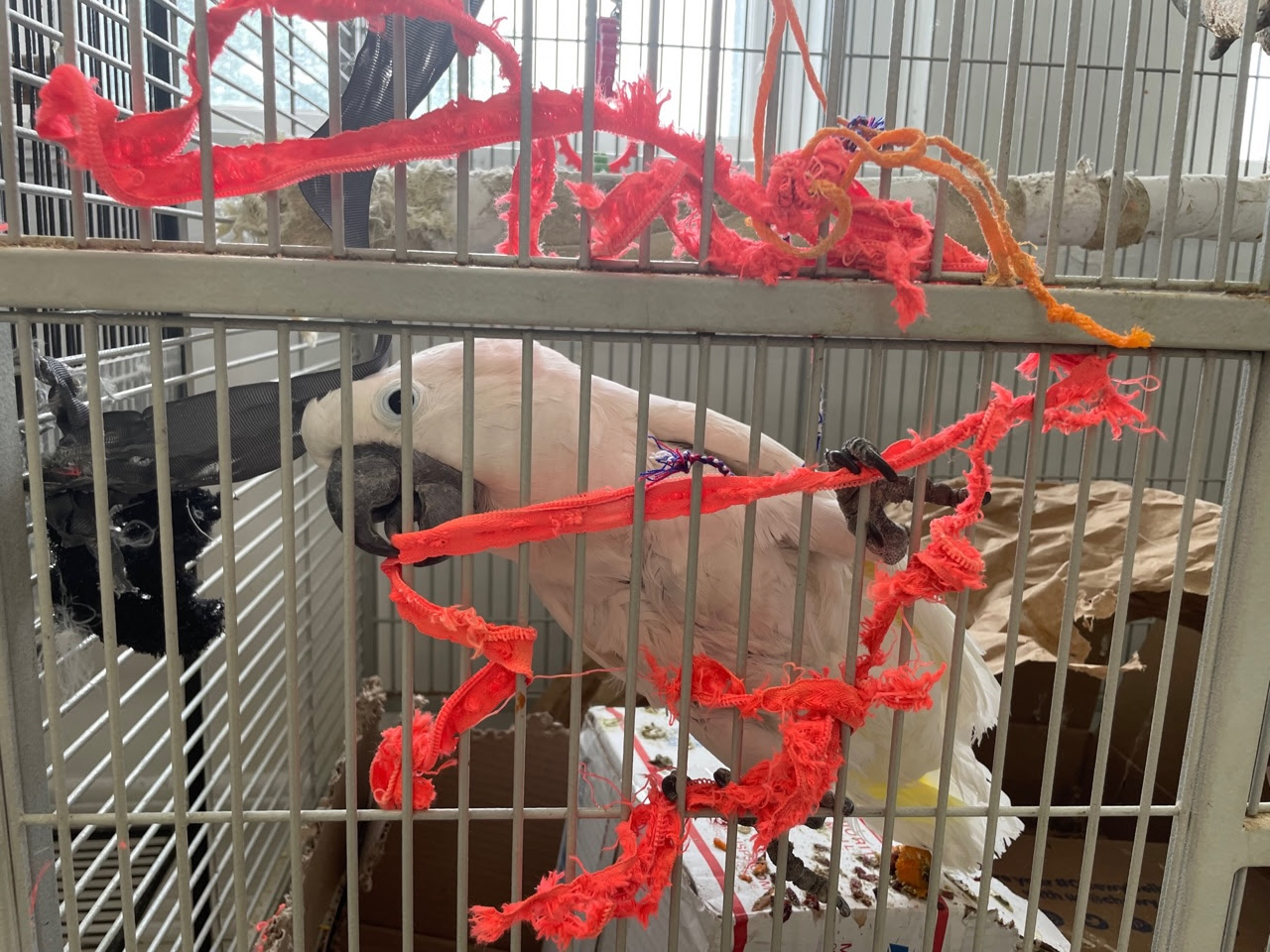 My former owner of 20+ years died of lung cancer, and when I arrived with Laurie, I was inconsolable. I bit, boy did I bite, and I screamed. When I couldn't see Laurie, I screamed like my world was coming to an end… and every morning I would remind her of how my past companion died, with a wet, raspy cough that morbidly accompanied her morning rituals.
Even when Laurie gained my trust and I stopped biting, I still didn't want her out of my sight. I would scream my lungs out, until one day when she and I had sit down # 234. She told me that I HAD to find something to do. Something to focus on other than HER!! She said I needed to find a project, and I finally, finally understood!!
Since the family is very artistic, I became inspired by the different ribbons, zippers, and ropes she would leave me in the cage and I got started immediately. Sometimes I do a creation in a day and sometimes it takes me a week… but I plan to have a show of the photographs of all my weavings in Hudson Hall in 2024!!!!
Laura Ann J.
Tico
My name is Tico and I have a purpose.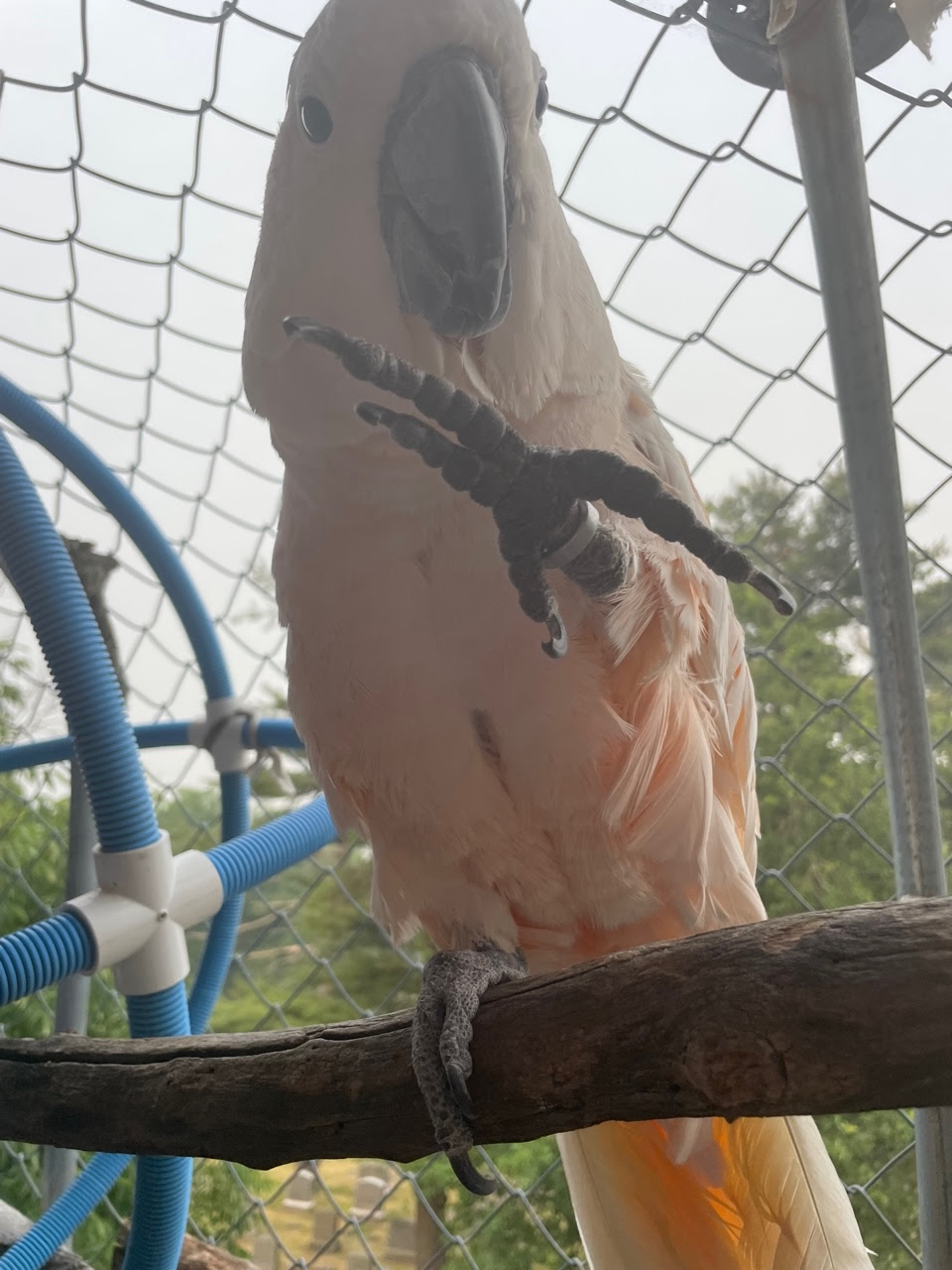 I live in a school house in the middle of a cemetery and my job is to meet and greet the people who come to stay here.
I know I am constantly on call and when that doorbell rings, I am ready to shine!!  With over 3000 visits to our Airbnb since 2014, more than half of them mention me as one of the highlights of their trip. It's really just a side gig though….
My real work happens when I do errands with Laurie and I heal the people I meet with my beauty, kindness, hilarity, and charm. People don't just say that I've made their day; I have heard people say, with tears in their eyes, that meeting me was the best day of their life. I love people as much as they love me, and I'm so happy to help!!
Laura Ann J.
Franz Klein
My name is Franz Klein and I have a purpose.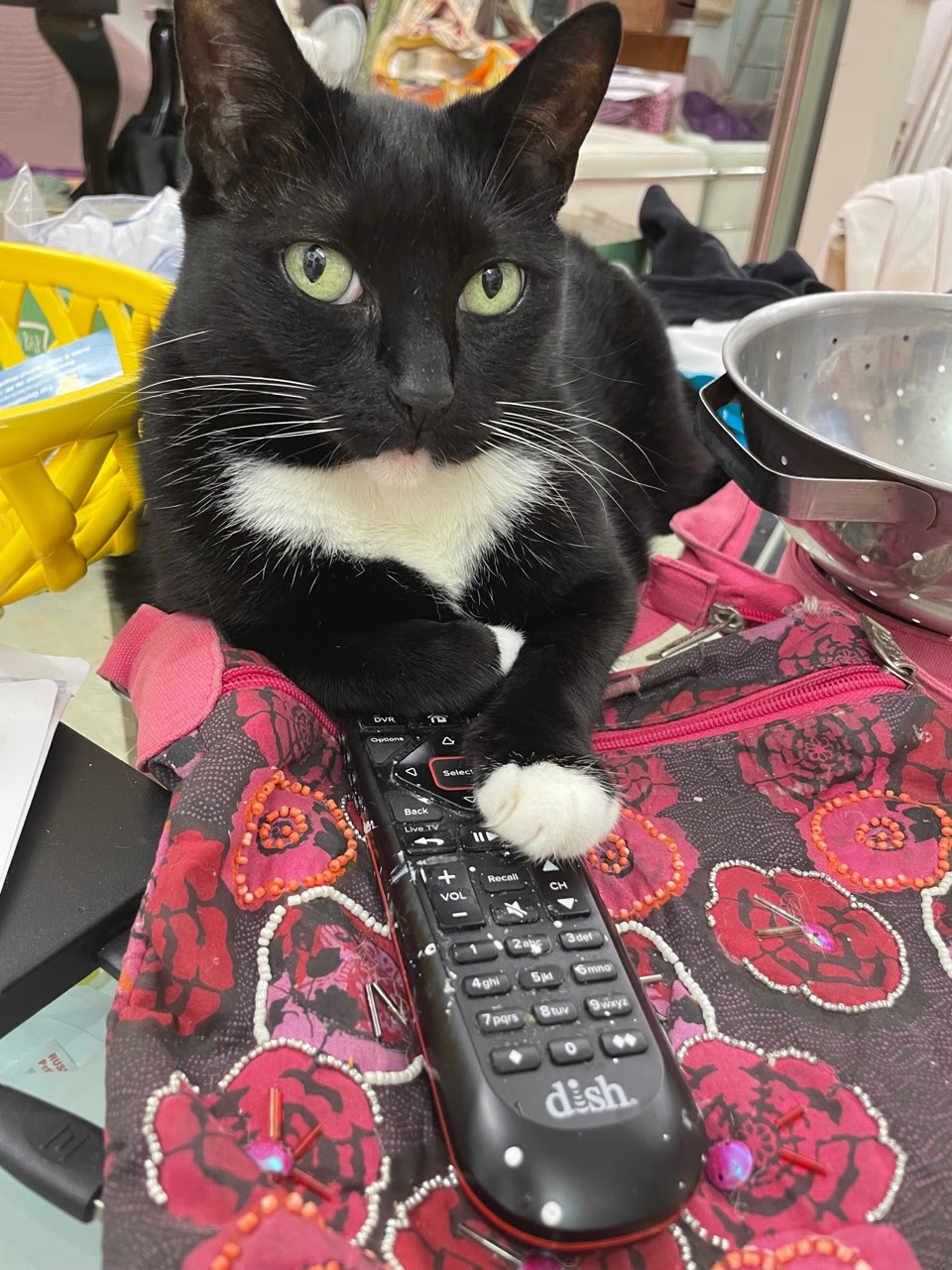 Although my efforts sometimes feel futile, I am constantly trying to get my person to slow down. 
Turn off the TV. Close the computer and put down the phone. I can teach her animal communication and much more if she would slow down enough to hear me. She's talking to me all the time but to get her to stop and listen is sometimes infuriating!! 
I sleep right next to her head and try to get to her through her dreams. When she brushes me early in the morning, and then again, late at night, it calms her mind and this is the time I am most able to get through. 
It is a tough job, but I am up to the task!! 
Here I am in this picture laying a guilt trip on her (I am half Jewish). 
Laura Ann J.
Herman, Archie, and Gunner
Herman's main job (and he takes it very seriously) is being my best friend. He also believes he's my protector… keeping other dogs and people away from me.  Some say he's jealous but that is not true.
Archie's job is to protect the two little ones, Herman and Gunner.  His job also is to protect the property.  Every morning he walks the perimeter, slowly and calmly. He is very gentle with the deer, squirrels and chipmunks… but if he sees another dog or what he perceives as a predator, he will chase them off.
Gunner's job is to be the best companion ever to his person, my roommate Garret.
Rob R.